Speaking of washing machine products, I believe we will not be unfamiliar. In recent years, with the continuous development of product technology, washing machines are gradually undergoing qualitative changes. From fully-manually-operated double-cylinder washing machines to fully automatic wave-wheel washing machines to today's drum washing machines, technology is becoming more and more advanced. The function of the washing machine is also gradually increasing, and even some products have added practical functions such as drying, making the washing machine an indispensable product in every family.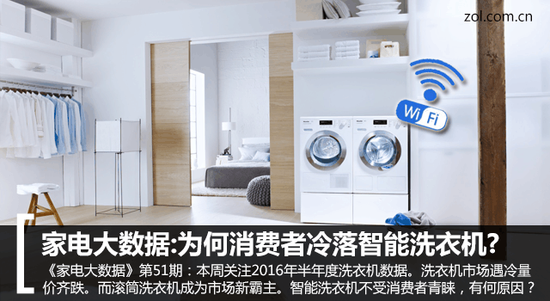 Recently, Ovid Cloud Network (AVC) announced a series of semi-annual domestic washing machine market data for 2016, and there are a lot of concerns in big data. For example, is the popularity of drum washing machines or traditional wave wheel washing machines sold better? How popular is the popularity of smart washing machines and has become the preferred choice for users? With these questions, we can all find answers from big data. Not much to say, this week's "Home Appliances Big Data" 51st issue, we come together to focus on semi-annual washing machine big data.
In the first half of 2016, the volume of cooling in the washing machine market fell
First of all, let's look at a set of aggregated data. According to the big data provided by AVC, in the first half of 2016, the total sales volume of the domestic washing machine market was 14.64 million units, a year-on-year decrease of 1.6%, and the sales amount was 26.3 billion yuan. The total reduction is 4.6%. There have been a lot of price and price declines. This means that overall, in the first half of 2016, the washing machine market was saturated and the demand for user purchases was reduced. Although there are many promotional activities for manufacturers, they will not change the pressure caused by the market downturn.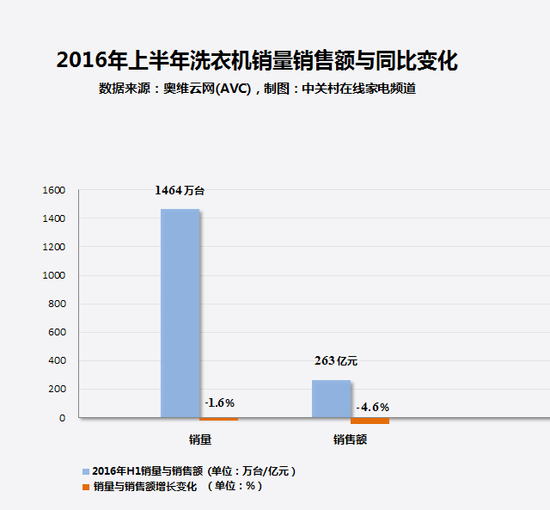 In the first half of 2016, the washing machine market experienced volume and price changes.
The most popular online store purchase growth rate
For many users, nowadays like to buy home appliances through the online store. Compared with physical stores, the advantages of online shopping are also obvious, such as shopping at any time and anywhere, making it easier to compare multiple products and offering more room for choice. So, in the first half of 2016, users like to choose online shopping washing machine or favor the traditional store? Next, we still let big data speak.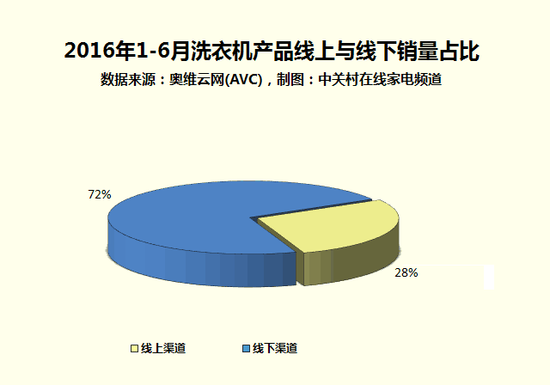 70% of users choose offline channels to purchase washing machines
In terms of online and offline market share, the total sales volume of semi-annual washing machines in 2016 was 14.64 million units, of which 4.11 million units were sold through online channels and 10.53 million units were sold through offline channels. Through calculations, it can be known that the proportion of users who buy washing machines online is 28%, while the proportion of users who purchase offline channels reaches 72%.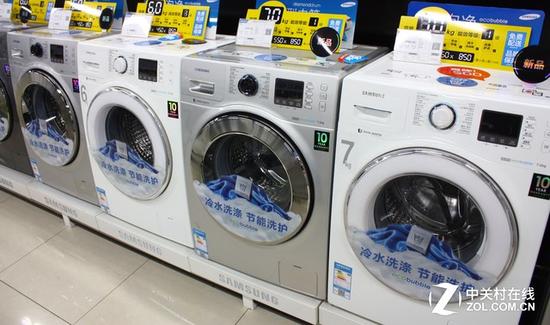 Consumers prefer to buy washing machines in the store
It is not difficult to see from this set of data that in terms of the market in the first half of 2016, online channels have lost sales to less than half of offline channels. However, it is worth noting that despite the relatively low sales of online channels, it is worth paying attention to the growth rate. Big data shows that online channel washing machine sales increased by 37.8%, while sales of offline channel washing machines decreased by 11.5% year-on-year. If the offline channel can maintain a stable growth rate of about 30%, then online channel sales exceeding the offline channel, it is only a matter of time.
Drum washing machine into the hegemony of the main average lower prices more affordable
â–  The drum washing machine becomes the main wave wheel defeated
For the moment, washing machines are undergoing constant replacement and technology is gradually developing. Among them, the mode of work of washing machines has also undergone major changes in recent years. For example, in the current market, whether it is a physical store or an electricity supplier, old-fashioned single- and twin-cylinder washing machines have been rare, replaced by pulsator-type washing machines and drum-type washing machines. So, which products are the most popular among consumers? Let's take a look at the answers brought by big data.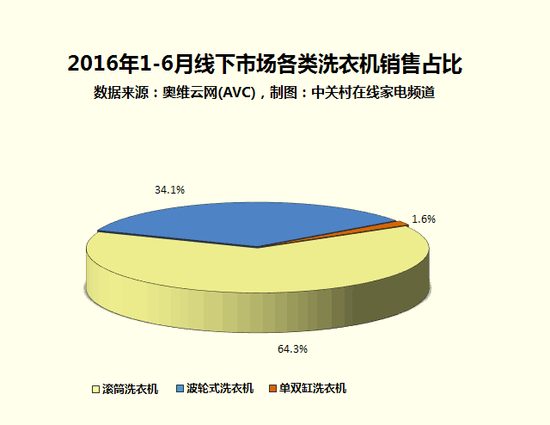 Drum type washing machine dominates the market
According to big data, in the first half of 2016, the domestic washing machine market accounted for 64.3% of the drum washing machine retail share, and the share of the Washing Machine retailer accounted for 34.1%, and the retail share of the single-cylinder washing machine accounted for 1.6%.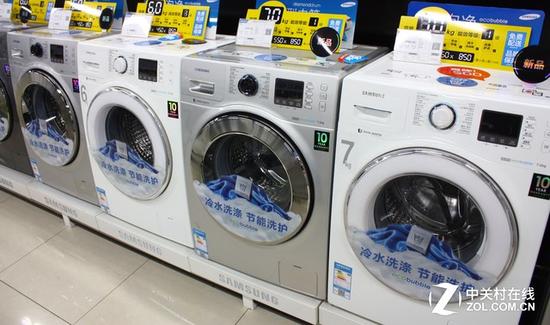 Consumer favorite drum type washing machine
It can be concluded that from the situation in the past half year, the drum washing machine has undoubtedly become the most popular product of consumers, accounting for more than 60% share. It is worth noting that in the same period of 2015, the retail sales of drum washing machines accounted for 58.6%, and this year, the share rose by 5.7%. In contrast, the share of Washing Machine was reduced from 39.5% in 2015 to 34.1%. Therefore, it can be said that the current drum washing machine has become the new leader in the market, occupying the mainstream position, consumers are increasingly recognized drum washing machine.
â–  Washing machine average price lower consumer purchase more affordable
Some consumers are very sensitive to the price of washing machines, especially consumers who have a small purchase budget. Then, compared with 2015, what happened to the trend of washing machine prices in 2016? Whether it is rising or falling, or continuing to decline, let's pay attention to this big data.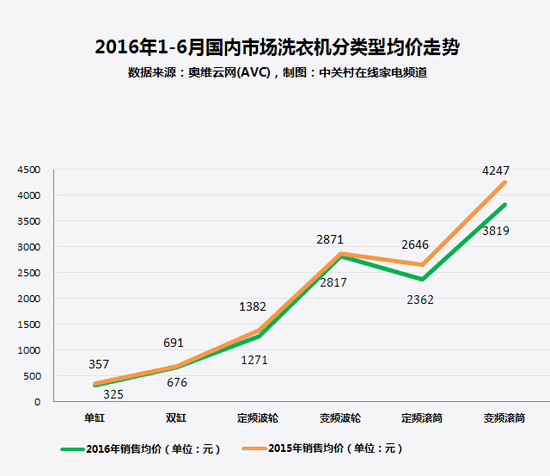 The average price of all types of washing machines has declined
The average price of single-cylinder washing machines fell from 357 yuan to 325 yuan, double-cylinder washing machines dropped from 691 yuan to 676 yuan, fixed-frequency pulsator washing machines dropped from 1,382 yuan to 1,271 yuan, and frequency conversion washing machines dropped from 2,871 yuan to 2,817 yuan. Frequency drum washing machine dropped from 2646 yuan to 2362 yuan, frequency conversion drum washing machine dropped from 4247 yuan to 3819 yuan. In general, both the drum washing machine and the pulsator washing machine have seen a downward trend in prices. On the one hand, it shows that the market competition of washing machine products is becoming increasingly fierce, and all brands offer price reduction methods and rely on lower prices to dominate the market. Consumers also benefit from it.
Smart washing machine is only cold for more than 10%
â–  The smart washing machine is only 10% cold when it is cold
The wave of intelligence has hit, and many home appliances are associated with the word "smart" and become the focus of the company's publicity. For washing machine products, the addition of intelligent features allows traditional washing machines to become taller and brings convenience to everyone's daily use. So, in the first half of 2016, what was the penetration rate of smart washing machines?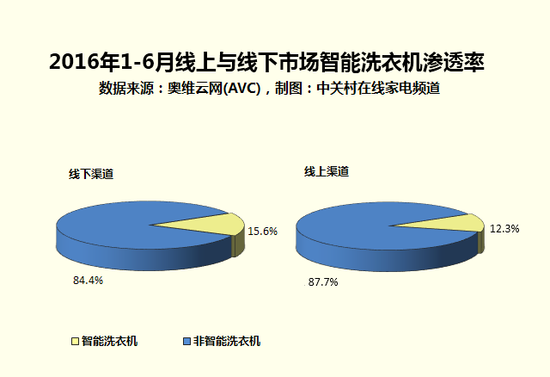 Intelligent washing machine penetration rate is only 15.6%
According to big data, the penetration rate of smart washing machines varies from online to offline. In the offline market, the penetration rate of smart washing machines was 15.6%, which was an increase of 1.7 percentage points from the same period of last year. In the online market, the penetration rate of smart washing machines has increased by 12.3%, which is an increase of 10.8 percentage points from the same period of last year. From this set of data, it can be seen that smart washing machines account for a relatively small proportion of online and offline markets, and even the highest offline market is only 15.6%.
Why is a smart washing machine cold?
So what are the reasons why users are less interested in smart washing machines? Let's take a look at what the smart washing machine in the market can achieve. At present, the "smart" of smart washing machines focuses on two functions. Among them, the WiFi intelligent control function is that the washing machine has a wireless control function, and the operation of the washing machine can be controlled through the mobile terminal, such as setting a washing program, setting a washing time, and the like. Another smart feature is a washing machine with smart add capabilities. This type of product can be put into the washing machine to store the liquid in advance. Intelligent laundry detergent can be added during the washing process. In this way, the user does not need to add liquid detergent every time when washing, which saves a lot of trouble.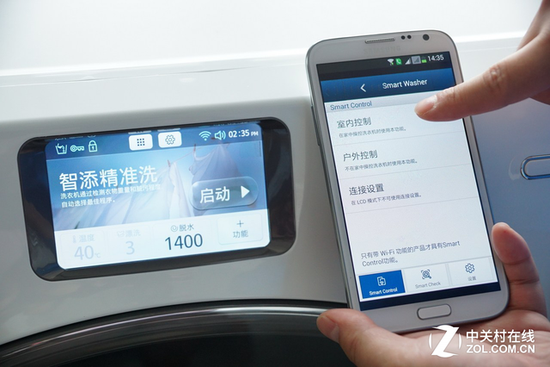 Increased functionality of intelligent washing machines is bound to increase overall machine costs
According to big data, the average price of intelligent washing machines is 4,772 yuan, which is an average of 2,365 yuan compared with the overall market price, and the gap is as much as 2,407 yuan. In other words, the current price of smart washing machines is still high, which is also a barrier to the popularity of smart washing machines. Only intelligent washing machine prices tend to be rational, consumers can gradually accept. If you only spend several thousand dollars for smart features, I believe many consumers will not be willing to pay for it.
Manometer Gauge,Contact Pressure Gauges,Safety Pressure Gauge,Steel Case Copper Alloy Pressure Gauge
Changshu Herun Import & Export Co.,Ltd , https://www.herunchina.com